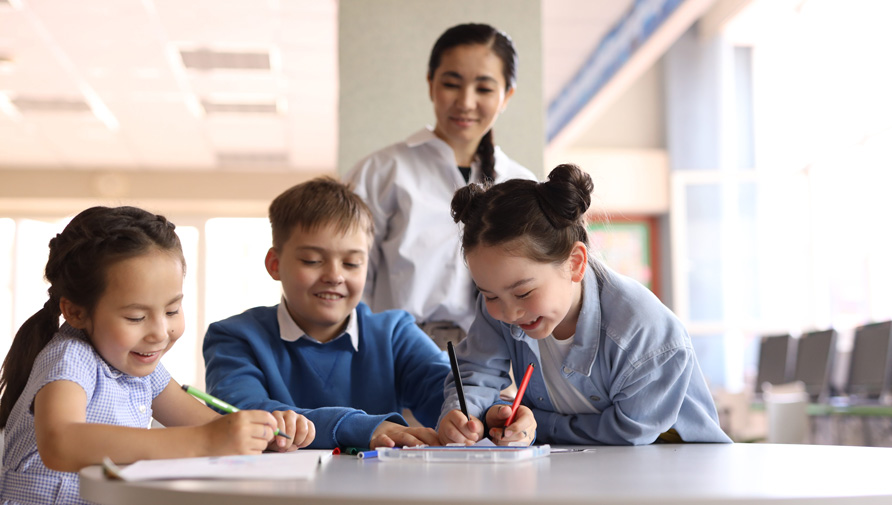 Miras International School, the Branch of 'Nursultan Nazarbayev Educational Foundation' in Nur-Sultan, was opened on September 2, 1999 and is a non-governmental educational institute, where national programmes and International Baccalaureate programmes are integrated. Over the years of its existence, the school has confidently declared about itself in the international educational community.
For the period of 1999-2014, the school was an experimental site of the Ministry of Education and Science of the Republic of Kazakhstan. The results of the experimental study have been embedded into the Kazakhstani educational programme.
Miras International School has the authorization for primary, secondary and higher levels of education of International Baccalaureate Organization (IBO), and accreditation of the following educational organizations: NEASC - New England Association of Schools and Colleges, CIS – (Council of International Schools), and ECIS – (European Council of International Schools). The School is accredited by the University of Cambridge for the right to teach and prepare for the IGSCE (International General Certificate of Education) and is one of the UNESCO Associated Schools.
In accordance with the Decision of the Government of the Republic of Kazakhstan #267 dated February 26, 2012, the School was assigned the status of 'international school' for the first time in Kazakhstan.
The School designs and implements its own integrated programmes for all educational stages based on the recommendations of the International Baccalaureate for primary, secondary and higher education and the requirements of the State Compulsory Educational Standard of the Republic of Kazakhstan.
Students are provided with a unique opportunity to develop and implement their potential through participation in different intellectual and sport competitions, exhibitions, assemblies and other events.
A special attention is paid to the 'Service as Action' Programme where students work on and implement different social projects and humanitarian campaigns.
At school, students participate in a variety of subject Olympiads and scientific research competitions. Annually, best students are assigned by the special award of the European Council of International Schools.
School graduates successfully continue their studies in universities of Kazakhstan, Czech Republic, China, Great Britain, USA, Canada, New Zealand, Russia and other countries of the world.
The School provides the students with adequate nutrition, necessary educational resources, safety, and ensures medical and psychological help and support.
The School has become a unique center for methodology, where methodology workshops, conferences for pedagogues of the city and country, open door days, career fairs and universities are held.
High-qualified staff of local and overseas teachers create conditions for fruitful and interesting teaching and learning in a friendly and safe atmosphere.