The Learning Support Center at "Miras" International school upholds the principles of a balanced education rooted in the firm belief in inclusion. Academic excellence is reflected in our philosophy of supporting and celebrating the diversity of learning needs within the school community. We endeavor to accommodate students with diverse learning needs to achieve their highest potential while celebrating their unique learning strengths and needs.
We believe that every child has the potential and desire to succeed academically. The Programme of Learning Support Center (LSC) is aimed to support creative and individualized learning within all grade levels, so all students can grow as learners.
The LSC uses a variety of instructional methods to support every student's unique academic needs and learning styles.
The teachers and the LSC specialists differentiate instruction and provide necessary accommodations for each child to be successful.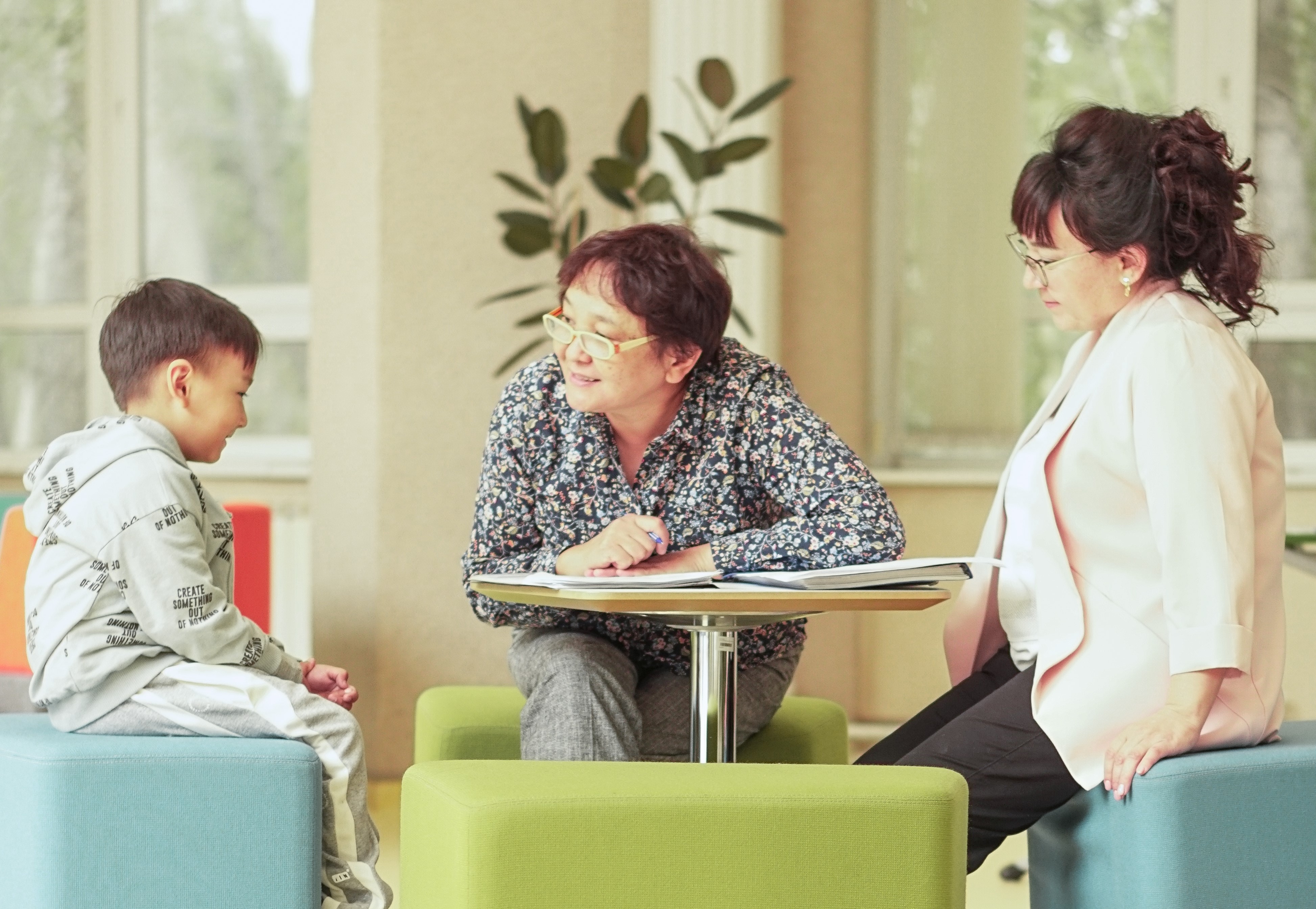 The Learning Support Center provides students with three key support programmes: Psychological support, Learning service, SEN students support.
Psychological support
The Learning Support Center carries out psychological services aimed to support the personal, social, and educational development of all students from Pre-school to 11/DP2.
School psychologists provide a variety of professional services to support achievement of students according to the Psychological Support Programme for all levels of education.
The Miras School Psychological Support Programme is a comprehensive continuum of services and activities based on psychological principles. The goal of the programme is to prevent or remediate educational, emotional, or behavioral problems by identifying, analyzing, and reporting psychoeducational needs through consultation, observation, or through psychological and educational assessment.
Comprehensive school psychological services are comprised of diverse activities in concert with the activities of teachers, administrators, speech therapists, medical and other school staff. These activities complement each other and are most accurately viewed as being coordinated rather than as separate services. The continuum of services and activities include but are not limited to:
Consultation - Meeting with school staff and parents on issues involving psychological principles related to curriculum development, learning, and student development.
Psychological Counseling—Providing individual or group evidence-based interventions with students or parents.
Assessment —The process of obtaining data about an individual student in accordance with acceptable, valid practices with the purpose of identifying factors that may impact on a student's ability to learn or function in a school setting.
Programme Development—Assist the school in developing and implementing the ATL programme and student related policies and procedures.
Learning service
Learning support activities are aimed to help meet the academic needs of students outside of class. These are carried out throughout the school day by Miras school teachers and are available to all students.
The staff are available to help students:
Discuss problems from the previous homework which caused difficulty
Get some help prior to a quiz or test
Consult a teacher about a project
Learn content missed because of absence from class
More successful and gifted students are provided by opportunities to extend their skills and knowledge through the after-school activities and participation in different kinds of exhibitions and subject Olympiads.
Psychologists in collaboration with homeroom teachers, subject teachers and ATL Coordinator provide groups and one-on-one lessons or consultations aimed to help students to develop their ATL skills. During these lessons or consultations students have the opportunity to assess their ATL skills, understand their individual learning styles, and learn new strategies that will make students more effective learners at school level.
SEN students support
The Learning Support Center works with students with learning needs to ensure provision of appropriate services in accordance with "Miras" school Inclusion/Learning Support Requirements Policy and Procedures.
Participants' activity within educational process is implemented through meeting the following objectives:
Access for all learners to broad, balanced, challenging and differential curriculum, oriented to their needs, advantages, abilities, talents and individual style of learning.
Provision of earliest identification of learners who need any support in learning and assessment, detecting of specifics/needs in special education.
Stimulating and supporting learners through collaborative designing and implementing of individual development plans for students.
Parents engagement in the educational process as partners and their full-fledged commitment into supporting their children; designing and implementing of collaborative approach to learning at home and school.
Systematic monitoring of SEN students' successes, discussion of results with students, their parents and teachers.